Dental Bridge
Perfect your smile with a dental bridge today!
We proudly serve patients of Chelsea, Revere, Malden and East Boston.
Dental Bridge
A dental bridge is your solution for missing teeth. If you are missing one or more adjacent teeth, a ceramic dental bridge is an excellent alternative to removable partial dentures. By attaching natural-looking artificial teeth between two dental crowns, we'll improve your smile to be functional and aesthetically pleasing.
Unlike dentures, bridges are not prone to slippage. They stay bonded to your natural teeth like implants. A bridge is a permanent prosthesis, attached to existing teeth. Whereas, a partial denture is held in place by metal clasps that fit around the neck of a natural tooth closer to the gingival margin. Dental bridges are more secure even though they do not require implantation. 
Gaps left by missing teeth are not merely a cosmetic issue. Remaining teeth will rotate or shift into the gap, resulting in periodontal problems and teeth malalignment. The imbalance can lead to temporomandibular joint (TMJ) disease. Gaps left by missing teeth can also contribute to the development of gum disease. A dental bridge protects the mouth from these issues while giving you more confidence.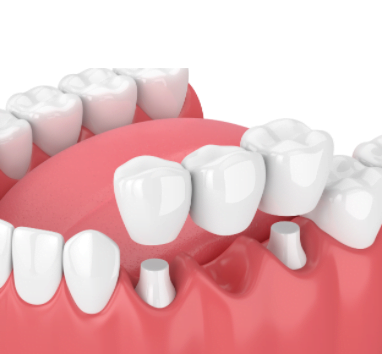 Is a dental bridge my only option for missing teeth?
Dental bridges are great for replacing missing teeth but they are not the only solution. During your exam and consultation, we will discuss all of your options. Speak to us today. We would love to help you achieve your dental goals.
Contact us today. We'll develop a treatment plan that best fits your dental needs. Remember, we will always take the time to answer your questions and explain every procedure before and during your visits. Call (617) 887-1400 or book an appointment online. You can also stop by. We accept walk-ins. Visit us at 38 Central Ave Chelsea, MA 02150.