Dental Implant
Replace missing teeth today. Ask us about a dental implant procedure!
We proudly serve patients of Chelsea, Revere, Malden and East Boston.
Dental Implant
A dental implant is an artificial tooth root designed to replace missing teeth. It is implanted in the jaw to hold a replacement tooth or a dental bridge. New technology and titanium allow modern implants to preserve the natural bone. This prevents further damage of tooth loss. Implants can repair your smile and preserve it for years to come.
Advances in implant dentistry over the last decade have made placing dental implants easy. Dental implant surgery no longer requires an operating room and can be done in your dentist's office. Because of these advances, implant dentistry is shifting from being a dental specialty to a mainstream procedure. Most dentists that perform dental implant procedures use a single, simple unit. Titanium and surface technology allow your natural bone to form structural and functional bonds with the implant. As a result, reliable dental implants function like natural teeth. Properly installed dental implants preserve the jawbone instead of damaging it. 
Can I get a dental implant?
The majority of patients are great candidates for this procedure. However, bleeding disorders, uncontrolled diabetes, radiation treatment, and other conditions will not qualify a patient due to risky complications. In other words, inform us of any health conditions and current medical treatments.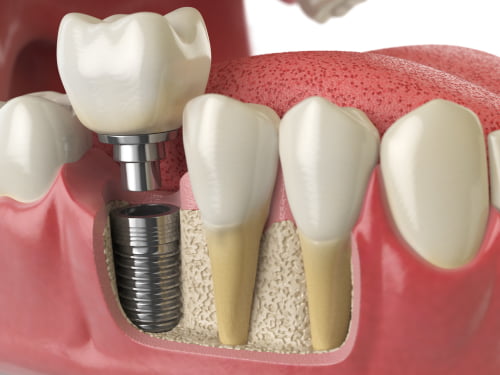 Are dental implants painful?
We have options to make this a pain-free experience for our patients.  Depending on your needs, we will narrow the best options to keep you comfortable and relaxed. 
Are dental implants expensive?
Dental implants can be costly depending on the procedure.  Insurance may cover all or a portion. It helps make the investment more affordable. Dental implants are definitely worth exploring due to their longevity and most natural appearance. They are also the most comfortable and convenient tooth replacement option. Once you receive a dental implant, normal brushing, flossing, and dental visits continue as normal. We will review your options for payment to make the dental implant procedure as affordable as possible.
Learn more about teeth replacement options like dental implants. Contact us today. Call (617) 887-1400 or book an appointment online.