Dental Crown
Add a dental crown to your smile.
We proudly serve patients of Chelsea, Revere, Malden and East Boston.
Dental Crown
Thanks to new technology, today's dental crown has improved since its first introduction to dentistry years ago. The dental porcelain is not only shaped like natural teeth, but it also replicates the look of tooth enamel. New porcelain crowns reflect light the same way as natural teeth. Dental crowns used by Chelsea Family Dental are the highest quality and offer the best results.
A dental crown is versatile and improves your smile in many ways.  It can be used for cosmetic dentistry procedures or to protect weak, broken, or chipped teeth from further damage. They are necessary to support dental bridges and are used to cover dental implants. Dental crowns are also used to seal teeth after a root canal treatment. Our highest quality dental crowns ensure that your root canal will not need more treatment and your teeth will remain strong. They also cover misshaped and severely discolored teeth. Overall, crowns are used in many ways to improve cosmetics and functionality.
How will my dental crown look natural?
Each dental crown is color matched to your existing, natural teeth. If you are considering teeth whitening, you may need to teeth whiten beforehand. This will ensure a seamless match. More on color-matching will be discussed during your dental exam and consultation. Schedule yours today!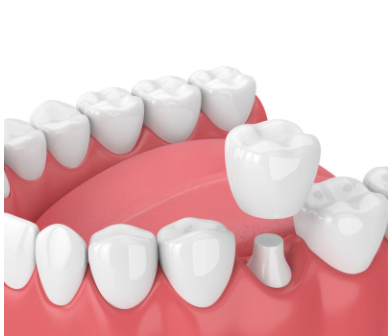 How much does it cost?
Each procedure is different. Depending on your dental needs, the cost will vary. We suggest visiting us for your consultation and exam. If you have dental insurance, we will review the coverage and discuss how it helps cover the cost.
Your smile should not be less than perfect! Contact us today. Call (617) 887-1400 or book an appointment online. You can also visit our dental office at 38 Central Ave Chelsea, MA 02150.