Invisalign
Correct your smile with Invisalign invisible braces.
We proudly serve patients of Chelsea, Revere, Malden and East Boston.
Dr. Ray Hanna, DMD of Chelsea Family Dental, is a certified Invisalign dentist and can improve your smile with the state-of-the-art, comfortable, and convenient invisible braces. Whether you have crooked teeth, widely-spaced teeth, or have a malalignment you could be a candidate for Invisalign invisible braces.
Invisalign involves a series of custom-made, clear plastic aligners that gently and gradually shift your teeth into the correct position. Because they are removable, there is no need to limit certain foods. You can also maintain your normal, simple dental care routine of flossing every day and brushing twice a day.
Because the aligners are made of smooth plastic, they will not damage or irritate gum or cheek tissue like metal braces. The plastic aligners are also clear which makes them virtually invisible. People will not notice the aligners like they would with braces. Instead, they will notice your smile improving with each stage of treatment.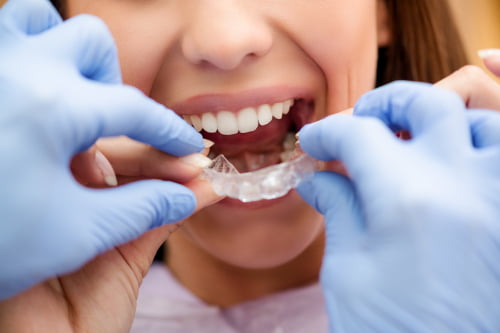 Each stage of treatment lasts approximately two weeks and consists of a new aligner. For best results, aligners are worn for 20 to 22 hours a day. Be sure to visit your certified Invisalign dentist routinely to observe progress. Completion of Invisalign treatment for teens is comparable to that of braces.  Also, Invisalign costs about the same as regular braces which makes them preferable to many patients.
How will I know if Invisalign is the best option to correct my smile?
Contact our office to schedule a consultation. Every smile is unique and there are cases when traditional braces are the best choice. However, we will explore all options available to achieve your dental goals. Call us today.
Do you live or work in Chelsea, Revere, Malden, or East Boston? Would you like to know if you are a candidate? Contact Chelsea Family Dental for your free consultation today. Call (617) 887-1400 or book an appointment online.