Pediatric Dentistry
Teach your child good oral health with pediatric dentistry.
We proudly serve patients of Chelsea, Revere, Malden and East Boston.
Pediatric dentistry promotes dental health in children and adolescents. It also provides educational resources for parents. The American Academy of Pediatrics recommends parents to take their children for dental visits six months after the first tooth appears.
A pediatric dentist provides the following treatments:
-Dental injuries such as knocked teeth, displaced teeth or fractured teeth
-Diagnosis of oral conditions associated with diseases such as attention deficit disorder, hay fever, asthma, congenital heart defect and diabetes
-Assess and treat crooked teeth or correct improper bites
-Conduct oral exams to for infants
How often should my child visit the pediatric dentist?
In order to prevent cavities and other dental problems, you need to take your child to visit the dentist every six months unless stated otherwise by the pediatric dentist.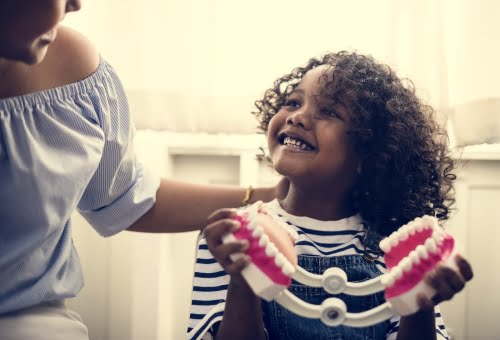 Why are baby teeth important?
Baby teeth or primary teeth are important for several reasons. Not only do they form a path for permanent teeth but they also help the child to chew naturally and speak clearly. This is why you should take your child to visit us as soon as their first tooth appears or on their first birthday.
Why should I consider a pediatric dentist instead of a general dentist?
Pediatric dentists have specially designed tools in their offices that are decorated and arranged with children in mind. They have expertise and a wide range of treatment options for your child's mouth, gums and teeth. 
How do I avoid tooth decay if my child is teething?
Teething is normal and should be treated appropriately to avoid bad habits and tooth decay.  Avoid teething crackers or cookies. Sugar can cause decay. Instead, choose teethers. You can store them in the refrigerator to keep them cold. The coldness helps soothe the area better. Do not freeze teethers. Freezing can cause bruising and gum damage due to the hard surface.
Learn more about pediatric dentistry today. Schedule a consultation today. Call 617-887-1400 or book now!